One of my friends and I have a lot of laughs about life in Canada… needless to say, this friend of mine lives in the United States.  Know however, that this is in no way meant to be anything other than in fun!  I have said it before that one of the things that Canadians possess is the ability to laugh at ourselves… and I, for one, am very good at that!
Until recently, I really didn't think that Canadians had an 'accent'… or a particular way of speaking if you don't want to call it an accent.  Seriously!!  I recently had an ankle injury and had to wear one of those AirCast walking boots around.  Oh, when my friend found this out, he would call me up, put me on the speaker phone with his fiancee in the background, and try to convince me to say 'boot' … really!?  Or 'toque'… or any of the other well known Canadian phrases that we have made popular!  I felt like I was living in this commercial:
Don't get me wrong… I find all this hilarious and if this offends any fellow Canadians, I apologize right now.  Really I do!  I am a proud Canadian and love everything about Canada – I just also love the humour that goes along with it!  And you know what, I didn't tell you that my friend has got this great New York accent that occasionally has a hint of Russian in it… and I sure love to use that in my favour too!
On the eve of the Oscars, I think of all the wonderful actors and actresses that were born and raised in Canada.  These aren't necessarily individuals that are to be on the red carpet tonight, but still some great talent.
One of my favourite actors/comedians is Jim Carrey… and look, he's a Canadian!  I love this section of a stand up comedy routine that he did a few years ago… describing Canada:
Have you ever checked out some of the well known Canadians?
Ryan Gosling – London, ON (my hometown)
Jim Carrey – Newmarket, ON
Ryan Reynolds – Vancouver, BC
Seth Rogen – Vancouver, BC
Carrie-Anne Moss – Vancouver, BC
Michael J. Fox – Edmonton, AB
James Cameron – Kapuskasing, ON
William Shatner – Montreal, QC … who can forget Captain Kirk?
Mike Myers – Scarborough, ON
Victor Garber – London, ON
John Candy – Toronto, ON
Neve Campbell – Guelph, ON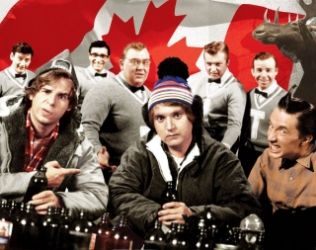 Dan Aykroyd – Ottawa, ON
Catherine O'Hara – Toronto, ON
Martin Short – Hamilton, ON
Natasha Henstridge – Springdale, NL
Sandra Oh – Nepean, ON
Eugene Levy – Hamilton, ON
Howie Mandel – Willowdale, ON
Paul Shaffer – Thunder Bay, ON
This is only a very small list of those that I am most familiar with… and sadly, I may be dating myself a bit here with my choices! *lol*
So, as my friend actually gets to attend the Oscars tonight, I look forward to getting to hear all about the excitement of being at the big event over the next couple of days.  And on a side note, I sure know an actor or two on the above list that is in his top five of all time!!
Well, off to get myself set for the watching the Oscars!  I have my drink, my snacks and both of the dogs ready to curl up on the couch with me!