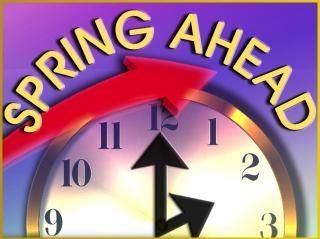 The start of Daylight Savings Time… one of my favourite times of the year because it means Spring is just around the corner!!  By this point, I've had enough of the cold temperatures, the snow, and the dark!  Though I don't relish the thought of losing an hour sleep… I don't sleep much anyways – who does as an autism parent? – so, it's not the end of the world.
These time changes affect most children, particularly those that are younger.  In our house, as much as I look forward to longer days and the warmer temperatures – that I am convinced will eventually get here one day!! – even these slight changes in time and routine can throw a real wrench in the works!  Children with autism are usually much more sensitive to the slight changes that occur with Daylight Savings Time.  So, be prepared, as it can take our children days or even weeks to acclimatize!!  I know, I'm groaning too!  Though you and I might adjust to the time changes alright, the challenges that go along with the change in routines can take a toll on all family members in the house.
I'm ready for the downward sprial that's coming!!  It usually doesn't last too long in our house, but it's like living for a few days with the effects of a full moon!   My son doesn't care about losing the hour sleep, but he is a creature of habit and that single hour seriously throws off his internal clock.  When his body is telling him that it's time to eat, or to go to bed, but the clock on the wall doesn't say the same thing, it's incredibly difficult for him to not only understand, but to deal with.
Last year, I came across these tips to help with managing the time change.  I must be honest and admit that I don't usually do anything to prepare for the Daylight Savings Time, but this time I think I might.  When the clocks shifted back last year the anxiety, stress and general behaviours were worse than normal… maybe it was a combination of things, but I think it's time to try a new approach to see if we can minimize the effects, not only for Bean, but for me!
Some Tips for Managing the Time Change:
Talk about the time change – when it's going to happen and what they should expect.  For example, explain that it will begin to get dark earlier (e.g., at dinnertime, while the child is watching cartoons, etc.).
Using a social story is always a great learning tool for children on the spectrum.  You can create one that will allow you to walk your child through what to expect from the time change.
A little before the actual time change, say about a week, start slowly shifting your child's bedtime. A few minutes at a time can make the adjustment easier when the clocks actually change.
Keeping your child busy and active during the day will help ensure that at bedtime they are tired and hopefully will have an easier time going to sleep.
Do you have any tips to help manage the effects of Daylight Savings Time?  Do share…. please!!