The other morning I came across this hilarious blog post at People I Want To Punch In The Throat about Over Achieving Elf on the Shelf Mommies.  I must admit I always love the idea of the Elf coming out of his box each year and Bean is always more than excited.  Then after a few nights I start to forget about moving him or even dread having to come up with schemes that our Elf has apparently planned while we were sleeping!  Though we do have fun with him, I wish I was one of those moms that was able to successfully come up with funny ideas for our Elf every night… but I'm not – and sometimes, like his name, he just has to sit on the shelf.
Last night however, our Elf on the Shelf did eat all the cupcakes… hubby was not impressed!!  There were chocolate crumbs everywhere!!!  Bean, of course, found it hilarious… me, not so much cause I had to clean up after him….EVIL ELF!!!!!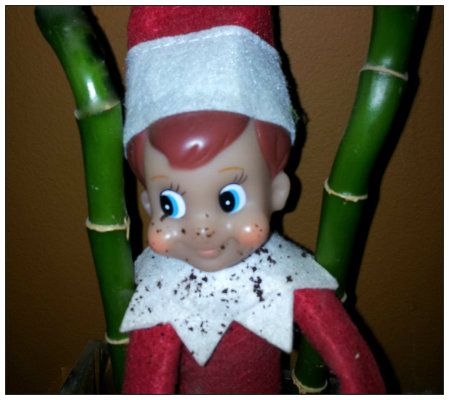 With all that being said, I think I may have overheard our Elf scheming about TP'ing the Christmas tree tonight!  *sigh*  Here's hoping I'm wrong!!
What has your Elf been up to this Christmas season?