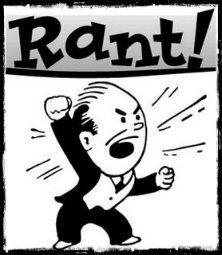 I have a little bit of a rant today!
Last night I was lying in bed around 1:30 a.m. trying to sleep and couldn't.  My mind was focused on my son's skiing lesson, but not the fact that he had had an accident on the hill.   I was seriously upset about the fact that I had a run in with one of the higher-ups at the ski school… actually, as in true fashion for me, it was the guy at the top!
My son has done this program for the past four years.  It's a program that is set up for individuals that have challenges, be it physical, mental, emotional or otherwise and up until last night it has been a great experience.  With it being a specialized program I would expect that everyone involved with the program should have a degree of acceptance, compassion and understanding even from those at higher levels.
Last night this was proven wrong and so wrong at that. When my son was reacting to the fact that he had an accident on the ski hill… was hurt and trying to deal with those feelings… was upset with everyone that had anything to do with his accident… I was trying my best to cope with his severely overloaded system while trying to get him out of his ski things and assess his injuries.  All he wanted to do was 'escape', but due to one of his injuries, I was doing my best to make sure that he wasn't able to run but in turn this just upset him more… understandably.  So, yes, he was upset!  Anyone could see that!!  Then to have an individual, that should have had at least some compassion, come over and start to reprimand my son for his behaviours??  I knew right then and there, we were going to have a problem!
I stood there for a brief moment dumbfounded at what was happening and sadly in that time, this individual was able to say more than he should have been allowed.  Before what was happening got any more out of control, I quickly stopped him asking him if he knew anything about autism.  I nicely explained that this type of behaviour was not unusual, but was part of his inability to cope with this situation.  Did that stop the lecture?  No!  That was the sad part… he apparently felt that he was helping by lecturing my son… really?!?!  I don't think I have ever gone up to a child that I didn't know and lectured them for their behaviour… especially not understanding the situation behind the behaviour.
I don't have enough fingers and toes to count the number of times I have experienced ignorance in relation to autism, but last night it hit a whole new level and from individuals I didn't think I would ever experience this from.  I really do like to believe that there is a lot of good in the world… but each time something like this happens, that ability to believe is taken down a notch or two.
I had to apologize to my own son last night for someone else's behaviour.  I had to try to explain to him that it wasn't anything that he did and that there is nothing wrong with him the way he is!  My son, as does every special needs child or individual, deserves the same respect as those without challenges.  It saddens me terribly to think that this type treatment will probably never end… as hard as we, as parents, work to advocate for our children.
So today, my heart weighs heavy as I try to reason how some people can be so cruel… so ignorant… and so incredibly insensitive to these children or individuals that truly are so amazing… if people would only give them a chance!
Until next time…